The Young Organics Global Network (YOGN) website and social media accounts were officially launched on the 28th of June 2020, which was the 7th year anniversary of IFOAM Asia.
Young Organics was established in 2011 in BIOFACH Nuremburg by twenty passionate and innovative organic youths from Argentina, Brazil, Egypt, France, Germany, India, Italy and Turkey – who were living and working in Germany, Holland and Switzerland. They decided to start an urban farm to experience farming first-hand and organized a number of events at different BIOFACH Congresses, the Organic World Congress in Korea and Turkey and at a UN event in Bonn where "Climate Change and the Sustainable Future" was the core of the discussions.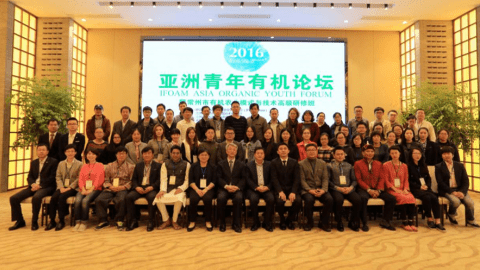 More on the Asian Organic Youth Forum
The Asian Organic Youth Forum was founded in 2016 by the first graduates of the Asian Local Governments for Organic Agriculture (ALGOA) Organic Foundation Course (OFC).
The OFC is an annual residential training program on the basics of organic agriculture focusing on capacity-building of government officers and IFOAM Asia members. Since then, the Asian Organic Youth Forum has trained over 300 people from the public and private sectors from all over Asia including incumbent mayors.
With the merging of two major youth groups from different regions of the world, YOGN aims to become the platform for the global organic youth who will learn from each other, train and inspire other youth to take the  organic movement forward.
YOGN will be formally launched on September 18th, 2020 in Goesan County, South Korea and will have its first major event – the 1st World Organic Youth Summit in the same county in 2021.         
YOGN is initiated by IFOAM Asia under the support of IFOAM-Organics International and with Goesan County as its strategic partner.  For more information, visit www.yoglobalnetwork.com or email YOGN at yoglobalnetwork@gmail.com.