IFOAM - Organics International, with its over 40 year history, has built a strong global network and cultivated insight on and access to experts across the organic sector. This ranges from standards and policy to advocacy and capacity development. By joining our training programs, you gain access to this close-knit network and expertise!
---
The Organic Academy
provides effective and comprehensive training programs developed to support the strategy of our organization and the needs of our movement. We offer high-quality, purpose-built training that takes an inclusive approach to strike a balance between theoretical content and active, in-person participation.
Our trainings consist of various courses Organic leadership Course (OLC), Training of Trainers (ToT), PGS focused training/advisory service, policy-focused/ advisory services and one-day topical trainings delivered at conferences or workshops. Topics range from Organic agriculture from field to plate, sustainable strategies tailored to individual needs and deepened understanding of the principles of Organic Agriculture.
The Organic Leadership Course (OLC) program is intended to facilitate the development of leaders in organic agriculture, giving them the opportunity to develop the necessary knowledge, skills and attitudes in order to lead and assist the development of the organic movement in a global and/or local context. The content and approach of the course is not to develop topic specialists, i.e. agriculture or extension experts, certifiers, etc. – but to facilitate a deepened understanding of all the facets of organic agriculture and build a regional and global network of capacitated change agents.
The OLC has three pillars, two Face-to-Face (F2F) sessions, a multitude of webinars and course assignments (development plan).
The Training of Trainers (ToT) is a shortened version of the OLC. The ToT and is designed to support trainers, who will in turn train trainees as multipliers (rural service providers, lead farmers, extension agents, etc.) in strengthening organics.
This ToT program focuses on both the methodology of training and capacity building, in order to assist and guide the trainers in bringing their message and content across to trainees in the most effective and efficient way. The ToT is based on the needs of the participants, the range of understanding and skills, and the requirements thereto. The ToT looks at actual content, curricula, and technical topics, organics inspires the training. The ToT is a short 5-day program, which focuses on developing the capacity of the trainers to:
Train and inspire their target audience.
Strengthen cross-cutting methodological competencies.
Introducing key components of organics.
Plan and implement their own training programs (Both ToT and "end-user" programs)
In Numbers
Meet our Alumni
80
Nationalities Represented
In Numbers
Training achievements
1860
Multipliers qualified


"At the OLC I have learned from the wisdom and work of and with others; and experienced at its core what it is to live and breathe the organic movement. Every moment had its nugget of wisdom and I went home bearing with me, 'organic movement' seeds to plant back home."
Paula Aberasturi
|
Phillippines


"Spending time learning and sharing with some of the most passionate people in the organic sector was such an enriching experience for me."
Rushongoka Wa-mpiira
|
Uganda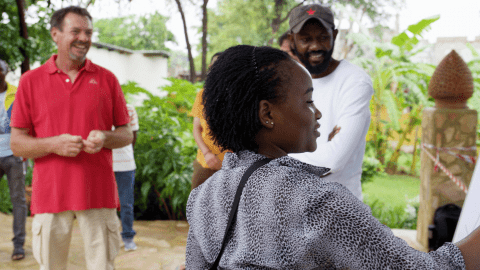 Tailored Training & Advisory Services
IFOAM - Organics International also offers tailored training courses. Individuals interested in learning more about these offers can access our training page here for additional information.
Contact the Academy team!