The Common Objectives and Requirements of Organic Standards (COROS) were developed as a joint venture of the IFOAM Organic Guarantee System (OGS) and the GOMA Project (Global Organic Market Access) undertaken by FAO, IFOAM and UNCTAD.
Application
It is intended for use in international equivalence assessments of organic standards and technical regulations and provides the basis for assessing equivalence of standards for inclusion in the IFOAM Family of Standards.  
The COROS contains requirements that have been found common across many private and government organic standards. Standards can be compared to this reference in an equivalence exercise, which will highlight their strengths and weaknesses as compared to the international reference. 
A  spreadsheet is the functional format whereby data is entered following the traditional structure of organic standards, and results are automatically fed into a second sheet that provides an overview of how well the standard addresses the Common Objectives. A third sheet is provided to summarize the results of the assessment.
Both IFOAM and the GOMA Project have developed tools for assessing equivalence of organic standards. These tools have been harmonized into a single one named  "Common Objectives and Requirements of Organic Standards" (COROS), or in the context of the IFOAM Norms: the "IFOAM Standards Requirements".
A first round of consultation was organized by the GOMA Project in the end of 2011 on the GOMA version of the document (before harmonization and merging with the IFOAM version). Comments submitted during the first round of consultation on the GOMA document, and responses to these comments, are available on the GOMA website.
The COROS, IFOAM Standards Requirements, underwent an open consultation period form February to March 2011. In its April 2011 meeting, the IFOAM World Board approved the revised version of the COROS, IFOAM Standards Requirements, as a new IFOAM Norm and reference for the acceptance or rejection of organic standards into the IFOAM Family of Standards.
On June 16 2011, the World Board presented a motion to the IFOAM membership, proposing to ratify the document. The motion was open for membership vote until July 28. The membership approved the COROS with an impressive 93,8 % of the votes.
Versions proposed for comments, a compilation of comments with the official responses, and the brochure explaining the proposal and vote procedure are available upon request.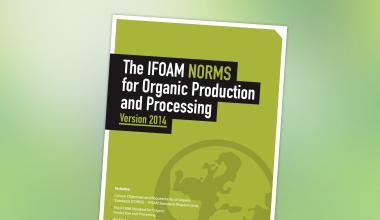 IFOAM Norms, Including the IFOAM Standard - A global framework to approve organic standards!
Read more